Check-in Time
Flights check in two (2) hours prior to departure time.
Flights close one (1) hour prior to departure time. One (1) hour prior to departure is considered the cut-off time. Passengers who have not paid for travel should do so before check-in time. During check-in time, non-confirmed seats will be released and sold.
---
Proof of Identification
A government issued photo I.D such as a passport, driver's license or voter's card will be required upon check-in and at security check point.
---
Baggage Check-In Time Limit
Passengers who fail to check baggage by applicable check-in times, risk having their baggage and themselves placed on the next available flight. Southern Air reserves the right, at its sole discretion, to allow check-in after the cut-off times. If checked baggage is accepted after the cut-off times, Southern Air will not be liable for any expenses incurred as a result of baggage not being loaded on the same flight as the passenger.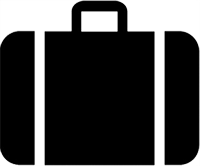 ---
Orderly Conduct
Southern Air has the right to deny boarding to anyone who acts in a disorderly manner, or under the influence of alcohol and/or drugs to ensure the safety of passengers and crewmembers.
Some amount of normal wear should be expected when baggage is transported.
Southern Air assumes no liability for damage to checked baggage such as: broken wheels or feet, lost pull straps, damage resulting from over packing, damage to oversized bags and damage to retractable baggage handles.
Southern Air assumes no liability if items of fragile or perishable nature are damaged during transport or for manufacturer's defects in baggage. Southern Air assumes no liability for any items unsuitably packed, unsuitable for transportation, with or without Southern Air's knowledge.
---
Airport Security / In-flight procedures
Do not leave your bags unattended.
Do not accept packages or baggage for delivery to the destination for another person if you do not know the person and if you cannot thoroughly inspect the content of the package or baggage.
Please pay close attention to the safety briefings' information provided and familiarize yourself with all exits.
• 3 -1-1 on air travel = 3 ounce bottle or less; 1 quart-sized, clear, plastic, zip-top bag; 1 bag per passenger placed in screening bin. One-quart bag per person limits the total liquid volume each traveller can bring. 3 oz. container size is a security measure. Consolidate bottles into one bag and X-ray separately to speed screening. Be prepared. Each time Airport security searches a carry-on it slows down the line. Practicing 3-1-1 will ensure a faster and easier checkpoint experience.
3-1-1 is for short trips. If in doubt, put your liquids in checked luggage. Declare larger liquids. Prescription medications, baby formula and milk are allowed in quantities exceeding three ounces and are not required to be in the zip-top bag. Declare these items for inspection at the checkpoint.
Each traveller is limited to one carry-on bag and one personal item, (purse, briefcase). Do not carry wrapped gifts on board the plane; you many need to unwrap it for inspection. Be prepared to remove your laptop computer from the case to be x-rayed separately. This also applies to camcorders. Limit metal objects on your person or clothing.
---
CLOSURE TIME
To assist with on-time departures for you and your fellow passengers on your flight, we recommend the following check-in and gate arrival times prior to scheduled departure time. It is the passenger's responsibility to allow sufficient time for security processing at larger airports, where line-ups can be lengthy during busy times.
You must obtain your boarding pass and check-in any baggage by the check-in deadline, and be available at the boarding gate by the boarding gate deadline. Be familiar with the check-in and boarding gate deadlines below. Failure to meet these deadlines may result in cancellation of your reservations and ineligibility for denied boarding compensation.
Check-in Deadline at Airport Counter - 60 minutes
Boarding Gate Deadline - 15 minutes
Connecting Flights
Please ensure that you allow a minimum of three (3) hours between domestic arrival and departures and your international arrivals and departures when booking on Southern Air. Southern Air will not be liable or any cost incurred due to reasonable delays in the industry preventing you from catching your connecting flights.
Fares
All fares are in United States Dollars (USD)
Tickets are non-refundable unless stated as refundable.
To maintain refundable status, tickets purchased in refundable fare classes must be cancelled no later than two(2) days prior to ticketed departure date.
Name changes can be made with proper written authorization provided that no segment of ticket has been used(flown).
If a ticketed flight reservation is cancelled prior to ticketed departure time travel that is rebooked will be valid as follows:
Fully unused tickets are valid for one year from the original issue date and no change fee will apply


Partially unused tickets are valid provided travel is completed within one year from the outbound flight date and no change fee will apply.


If ticketed flight is not cancelled prior to ticketed departure time, rebooking is not permitted for that segment and the segment will have no value.


If rebooking results in a higher fare, the difference will be added.
---
Prices are subject to changes without notice
Southern Air accepts Visa and Mastercard

Checked Baggage and Excess Charges
Each checked bag must not exceed 62 inches (157.48cm) in dimensions (length + breadth + height) & 40 pounds (18 kilos) in weight.
Maximum dimensions for a carry-on bag and personal item are 9 inches x 10 inches x 17inches including handles and wheels, personal item such as a shoulder bag, backpack, laptop bag or other small item, are 9 inches x 10 inches x 17 inches (22 cm x 25 cm x 43 cm).
PLEASE NOTE THERE IS NO ROOM FOR OVERHEAD CARRY ONS.
---
Excess baggage charge is $1.00 per lb. Maximum weight per baggage is 60lbs. Additional charges will apply if baggage exceeds 60 lbs.
Items that are exempted from a passenger's 40-pound allowance include but not limited to:
Infant Travel System (car Seat and stroller)

Canes

Medical assistive devices

Collapsible wheelchair

Pair of braces or other prosthetic devices (provided your are dependent upon the device)

Infant diaper bags

Baggage cart (two wheeled)
Southern Air will accept your baggage upon presentation of a valid ticket for travel. Your name must appear on the outside of the baggage. We recommend that you place your name, address and telephone number on the inside of your baggage.
Southern Air reserves the right to refuse baggage due to:
Baggage size, weight, character, or condition unsuitable for transportation on a particular aircraft.
---
Processing Checked Baggage
When you check in your baggage, a Southern Air agent will place a baggage tag on each piece of baggage. You will be given a numbered claim ticket for each piece of checked baggage. The claim ticket serves as proof of your checked baggage. Please keep the claim ticket(s) until you have received all of your checked baggage at the conclusion of your journey.
Tip: Please ensure that you remove any straps, hangers, and protruding objects from your baggage before checking it. These items can cause damage to baggage in the baggage compartment.
---
Carry On Luggage:
Each passenger is allowed one (1) personal item and one carry-on luggage on all flights.
---
Packing Your Baggage
Please ensure that there are no sharp objects and restricted liquids in your carry-on luggage. Pack them in your checked baggage.
Please ensure that medication, valuable items and documents are packed in carry-on luggage.
Do not pack any hazardous materials. Items such as cleaning products, bleach, aerosols and other such items are not permitted on board aircraft.
Please ensure that your baggage is not left unattended. For your security, ensure that you pack your baggage.
Sporting Equipment (must be properly packaged):
Surf Board/ Windsurf/ Kite surf (Maximum 62"): $50.00
Bicycle, Fishing Equipment, Scuba Equipment & Golf Bags are treated as checked baggage and must be properly packaged.
---
Live Animals
Animal must be in a kennel.
Up to 60lbs- $45.00
Excess of 60lbs- $75.00
Click here to view and download Southern Air Transportation of Live Animal Form
---
Fragile/Perishable Items
It is recommended that fragile items not be packed in checked baggage due to the standard way baggage is transported; breakage or damage may be unavoidable. Passengers may include fragile items in their carry-on baggage. However, Southern Air is not liable for loss, damage, spoilage, or delay in delivery of fragile or perishable items included in the passenger's baggage, with or without the knowledge of Southern Air.
Southern Air will allow you to purchase a ticket for an item, approved by Southern Air, which is too fragile or bulky to be handled as checked baggage. You will be charged 100% of the applicable adult fare for the trip in which the extra seat is being used.
The item must be properly packaged and secured by seat belt to avoid shifting during flight. Must not restrict access to emergency exits or aisle of the cabin. Must not block passenger's view of important safety signage in cabin. Must not contain dangerous goods.
Please Note: All baggage subject to search.
Southern Air Charter Firearms Rules
When traveling by air, safety is the number one concern.
Airline safety is a growing concern and airlines are working with the Airport Authority Security, to ensure the safety of all passengers. While every airline has their own perks and policies, each and every one, including Southern Air Charter, must follow regulated guidelines set forth by the administration. Given the nature of firearms, there are strict precautions which must be taken to ensure that these items are safe for air travel.
Airport Authority Security Regulations


The AAS outlines a policy for firearms and states that they can be transported via airplane if unloaded, locked in a hard-sided box, and declared during check-in. These items are only allowed in checked baggage and restricted from any carry-on.

---

BAHAMAS


Bahamas, as required by the AAS, only permits firearms in checked –in luggage or a separate shipping case. They must be packed in hard-sided packing and declared while checking-in, then given to Pilot of flight. Should ammunition be packed, up to 11 pounds is permitted if stored in the manufacturer's packaging or other secure box which prevents cartridge movement.

---

Air Safety

Before getting to the airport, ensure that Airport Authority Security guidelines, as well as Southern Air specific, have been reviewed. Preparing at home and conforming to the various regulations will save time and effort during travel.


Click here to view and download Southern Air Fire Arms Transportation Form
---
Hazardous and Prohibited Items
Some items are considered hazardous and prohibited from air transportation. You cannot travel with these items as checked, cabin-seat or carry-on luggage. They include:
Flammable Materials: Fuels, paints, lighter fluid and matches.
Explosive Materials: Fireworks, signal flares, sparklers, Freon, helium and gunpowder.
Dangerous Chemicals: Bleach, adhesives, linseed oil, spray starch, insecticides, cleaners and solvents, wet-cell batteries (except those in wheelchairs) and pepper spray.
Pressure Containers: Spray cans, fuel, scuba tanks, propane tanks, fire extinguishers and self-inflating rafts.
Some items may not be carried on board, but are acceptable as checked baggage. These items include:
Alcohol

Sharp objects such as box cutters, knives, razor blades, scissors.

Sporting items such as baseball bats, golf clubs, hockey sticks, ski poles, and spear guns.

Tools such as axes, hammers, drills, pliers, saws, screwdrivers, wrenches.
Claiming Your checked baggage
Baggage is generally available within 15 minutes after the flight's arrival time. Since many styles of baggage are quite similar, we recommend that you inspect your baggage closely to make sure you claim your own items as to avoid inconveniences to yourself and other passengers.
---
Baggage Delay
In the event that we do not locate your baggage within five days, we will initiate a more extensive search upon receipt of a written claim. The processing will require an additional 30-day waiting period before final settlement for lost baggage is offered.
---
Delivery
When baggage is located, Southern Air will deliver them to you unless you have voluntarily separated from your baggage. Southern Air will not assume the expense of delivery baggage to customers who voluntarily separates* from their baggage.
* Voluntary separation occurs when you check –in after the standard check-in time, take an earlier flight after you have checked your baggage in or fly to another destination after checking your baggage.
---
Damaged Baggage
Damaged/ Lost Baggage is to be reported to an agent upon arrival to destination once you receive your baggage or realize that your baggage did not come on the flight. An agent must verify damage baggage before leaving the airport. Any baggage or package leaving the airport without a report will be considered as being received in good condition.
Some amount of normal wear should be expected when baggage is transported.
Southern Air assumes no liability for damage to checked baggage such as: broken wheels or feet, lost pull straps, damage resulting from over packing, damage to oversized bags and damage to retractable baggage handles.
Southern Air assumes no liability if items of fragile or perishable nature are damaged during transport or for manufacturer's defects in baggage. Southern Air assumes no liability for any items unsuitably packed, unsuitable for transportation, with or without Southern Air's knowledge.
---
Lost Articles
For customers needing assistance in locating items left on board a Southern Air aircraft or left behind at boarding area, please contact the nearest location. We will search for your missing property and contact you only if we have located your property or an item similar to your description. Items that are located will be returned at the owner's expense.
---
Limited Liability for Loss/ Damaged Baggage
Southern Air's liability for the loss, damage or delay in the delivery of passengers' baggage is limited to the fair market value at the time of loss or damaged baggage not to exceed $10.00/lb per piece and $400.00 in value.
Minors
We would accept minors at age 5-11 years old at time of travel.